In this Guide, we will learn about Microsoft Power BI Certification PL-300 for Data Analysts. We explore the Syllabus, Best Free & paid Courses for exam preparation, Practice tests, Exam Questions, Exam type & Cost, Questions, and resources available from Microsoft for this certification.
After reading this article you will have complete know-how about the PL-300 exam, from enrolment, preparation and result.
At last, we will discuss frequently asked questions for PL-300 Certificate
Why do You need to do Power BI Data Analyst Certificate?
Microsoft Power BI is one of the most used Business Intelligence software in the industry for Data visualization. And as per Gartner Magic Quadrant, Microsoft Power BI remains in the leadership position beating Salesforce's Tableau and Google's Looker.
So this certificate increases your chances of getting a Data Analyst Job no matter whether you are an experienced professional or a fresher.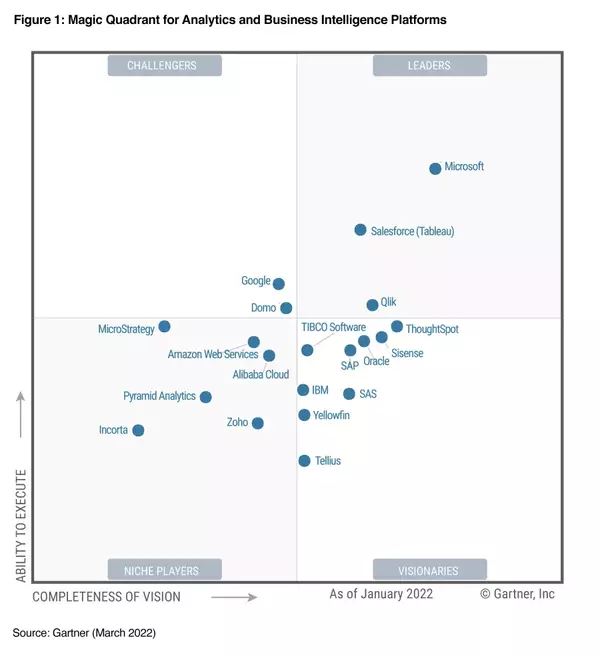 Syllabus Microsoft Power BI Certificate PL-300
The syllabus is divided into four sections:
Prepare the data (15–20%)

Get data from different data sources
Clean, transform and load the data

Model the data (30–35%)

Design a data model
Develop a data model
Create model calculations by using DAX
Optimize model performance

Visualize and analyze the data (25–30%)

Create reports
Create dashboards
Enhance reports for usability and storytelling
Identify patterns and trends

Deploy and maintain assets (20–25%)

Manage files and datasets
Manage workspaces
5 Best Free Courses to Prepare for Power BI Certification PL-300
Below is the list of best free resources from which you can prepare for your Power BI PL-300( Previously DA-1000 Certificate
This is one of the best tutorials available for learning Power BI for Free. It is a 4-week self-paced course. The instructor of this course is Mr. Pete Benbow who is Team Lead for Analytics and Business intelligence at Davidson College.
This is one of the Highest Rated courses by Mr. Aaron Parry of Maven Analytics. The Couse Contain 8.5 hours of On Demand content and comes with 1 Practice test.
The Course is one of the Bestsellers on Udemy by Mr. Phillip Burton and comes with 2.7 hours of on-demand video.
Microsoft created their content with Lab simulation to help students to prepare for "Exam PL-300: Microsoft Power BI Data Analyst"
Experts from the Microsoft team provide tips, tricks, and strategies for preparing for a Microsoft Certification exam. You will find 4 videos describing briefly the exam topics.
PL-300 Exam Question for Practice
You can check our PL-300 Exam Questions/Dumps with Answers Free[PDF] post, we have added around 340+ previously asked questions in the PL300 exam. We also have a youtube video explicitly explaining Pl-300 Questions, please watch it below:
PL 300 Practice Test
Microsoft Partnered with Mindhub and provided the official Practice Test.
Microsoft Official Practice Test
Detailed answers and references
Study and timed certification mode
Instant score report
Fee – $99
5 Practice tests On Udemy
Lucid explanations
Fee – $15 (US)/ INR 500 (India)
Completely Free
340+ Questions with Answers
Best Free Power BI Certifications
You can explore other free Power BI Certification in parallel with PL-300 Certificate, few are mentioned for you here:
Alison provides many free Microsoft Power Bi learning and certification courses from different professionals and Institutes.
Diploma in Power BI
Master Microsoft Power BI
Introduction to Analysis with Power BI Desktop etc
You can check the website and choose the course of your Choice.
LinkedIn Learning provides many Power BI free courses with Certificates. You can choose the course of your choice and start learning. All courses are free for one month and you can benefit from these. Some important courses are listed below:
Power BI Essential Training
Power BI: Dashboards for Beginners
Advanced Microsoft Power BI
Power BI Data Modeling with DAX
FAQs
Is PL-300 Easy or tough?
If you are a regular user of Power BI and repeatedly perform activities like Preparing Data, Modeling, Visualization, & deployment then it is easy to clear the PL-300 Microsoft Power BI Exam.
What is the Cost of the Microsoft Power BI Certificate Exam PL-300?
The exam cost of PL-300 is $165USD (Around 4800 INR)
Are DA-100 and PL-300 the Same?
PL 300 certification replaced DA-100 as the official Microsoft Power BI Data Analyst exam. PA-100 retired on March 31, 2022. The Skills required and syllabus for both exams are the same.
Is it Worth getting a PL 300 Microsoft Power Bi Certificate?
Yes, PL-300 helps you to be highlighted in the crowd and if you are a fresher then this certificate will be a big positive in getting you a job in the analytics field.
Is there any Microsoft Certificate for Power BI?
Yes, the name of the certificate is "PL-300: Microsoft Power BI Data Analyst". It replaced the previous certificate DA-100 which was retired by Microsoft on March 31, 2022
Is the Microsoft Power Bi course Free?
Microsoft provides a free online learning path to learn Power BI for free. The course has Videos, Chapters, and Lab assignments which you can complete to get Hands-on with Power BI
PL 300 Exam/Questions type?
1)      Active Screen Questions
2)      Multiple Choice Questions
3)      Correct Order Questions
4)      Multiple Choice Questions based on Case Studies
5)      Drag & Drop values to correct option
PL 300 Passing Score?
The Passing score of PL-300 is 700 out of 1000.
Microsoft PL-300 Exam Time/Duration?
The period to complete the exam is 100 Minutes. You can take a break in between the exam but you will not be allowed to attempt the questions which you have seen before going to break.
PL-300 No of Questions?
The exam consists of 40 -60 Questions.
When to expect your Score/Result?
You will get your score immediately after finishing your exam.
What to do if you fail the exam?
If you fail your exam, you can retake the exam after 24 Hours after your first attempt. In one year you can have a maximum of 5 attempts.
What is the Validity of the PL-300 Certificate? Expiry Date?
The Validity of the Microsoft Power BI Data Analyst certificate is of one year. The certificate expires after 1 year.
Summary
Microsoft PL-300 Certificate Summary